At Cohesion Singapore, we take pride in providing an exciting and competitive laser tag game for corporate team building, parties, gatherings or NS cohesions. Take a break from the monotony of office routine and engage in some quality time with your team by tagging it out in an interactive game of laser tag. Players will attempt to score points by tagging their opponents and targets with a laser gun.
Our laser tag activity is one of the best games to play as a group, as it's the closest thing you can have to make your video game experience come to life. Cohesion is dedicated to ensuring that your laser tag experience will be as fast-paced and thrilling as possible while maintaining a safe environment be it indoors or outdoors.
Shihong Khor
08:02 09 Nov 19
Very well facilitated. Activities were adjusted to suit our needs. Happy to come again
Kah Kiat Hong
08:01 09 Nov 19
Cohesion staffs had been very helpful and informative. It was a very enjoyable session. Esp Tao and his assistant
Mitesh Narsana
10:14 07 Nov 19
Very well organised, well organised and good food. Highly recommended for team outings.
Mag Lolang Vlogger
09:23 03 Nov 19
We had a fun experience today with our team bonding doing Sword Tag. It was my first time doing it and I find it tiring but enjoyable. Thanks to Ben and Tao who facilitated our activity. Our team really had fun and memorable experience 😊🤗
Nicholas Wong
09:01 03 Nov 19
Ben and Tao were very friendly and helpful. The team bonding session organised by them was very well done and fun
Sin Kiat Chew
09:01 03 Nov 19
Had a fun time playing sword tag. Ben and Tao were good facilitators.
DEBORAH NG SEE YAN 3H
09:28 02 Nov 19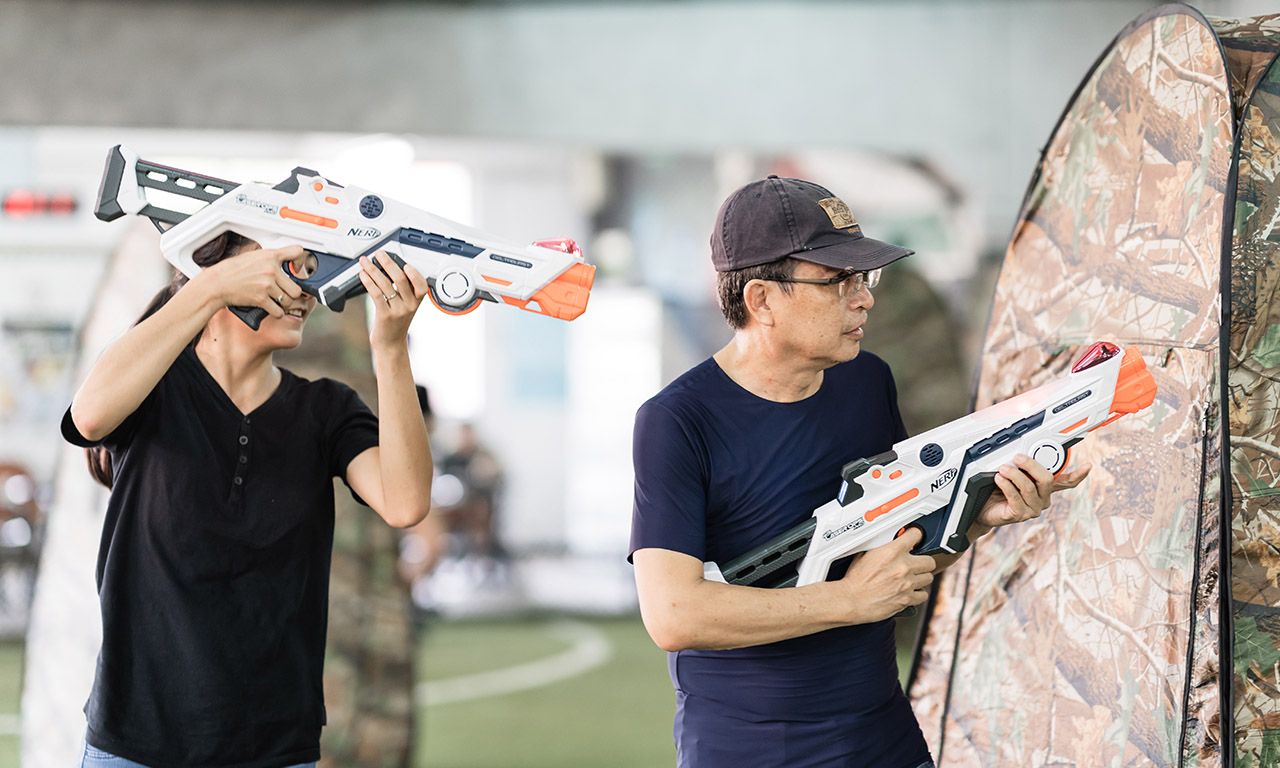 Teamwork
Learn the importance of teamwork as players work together to emerge as victors in friendly competition.
COMMUNICATION
Players will have to learn how to communicate effectively with each other in our fast-paced games.
BONDING
Take this opportunity to learn more about your teammates through our highly interactive series of games.
Game Modes
We have an exciting line up of game modes that will add variety to your event.
In Team Deathmatch, teams will vye head to head against each other and attempt to eliminate as many opponent team members as possible. Teams will learn the importance of teamwork through working together as one unit.
Teams will have to compete against each other to capture the opponent's flag and bring it back to their homebase. For every flag that is captured, teams will be given clues which they will need to use to solve the final puzzle.
Teams will have to nominate one team member as the VIP of their team. The objective of both teams is to eliminate the VIP member. The VIP member will be given more lives that normal members and teams will have to strategize carefully to figure out the best way to eliminate the VIP. Once the VIP is eliminated, the team will be given a puzzle to solve while still having to defend their VIP against attackers. The winning team will be the team that is the first to complete the puzzle challenge.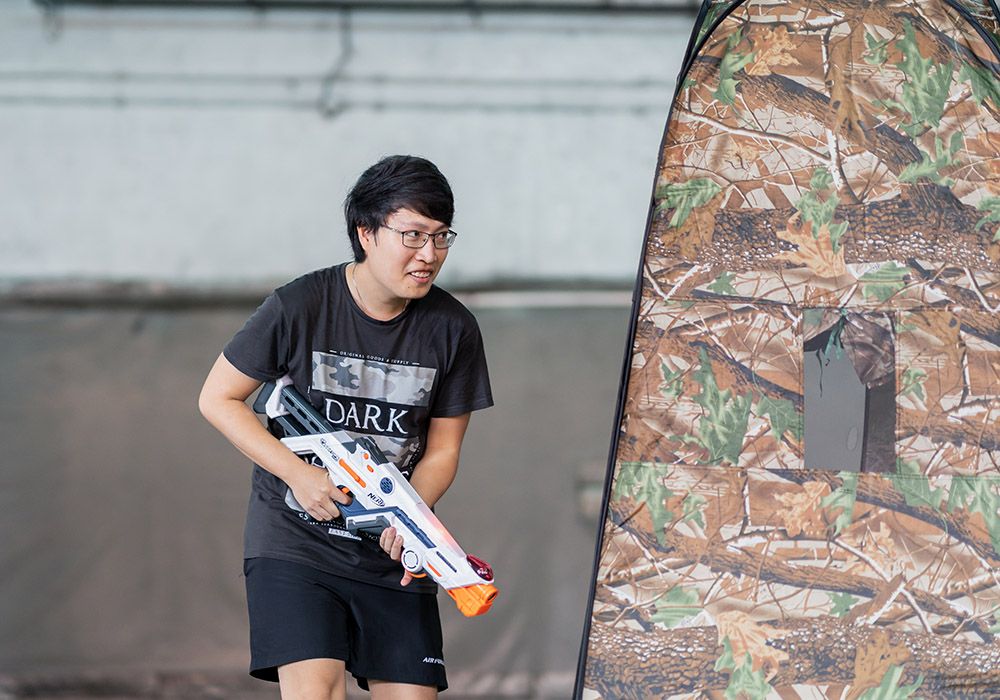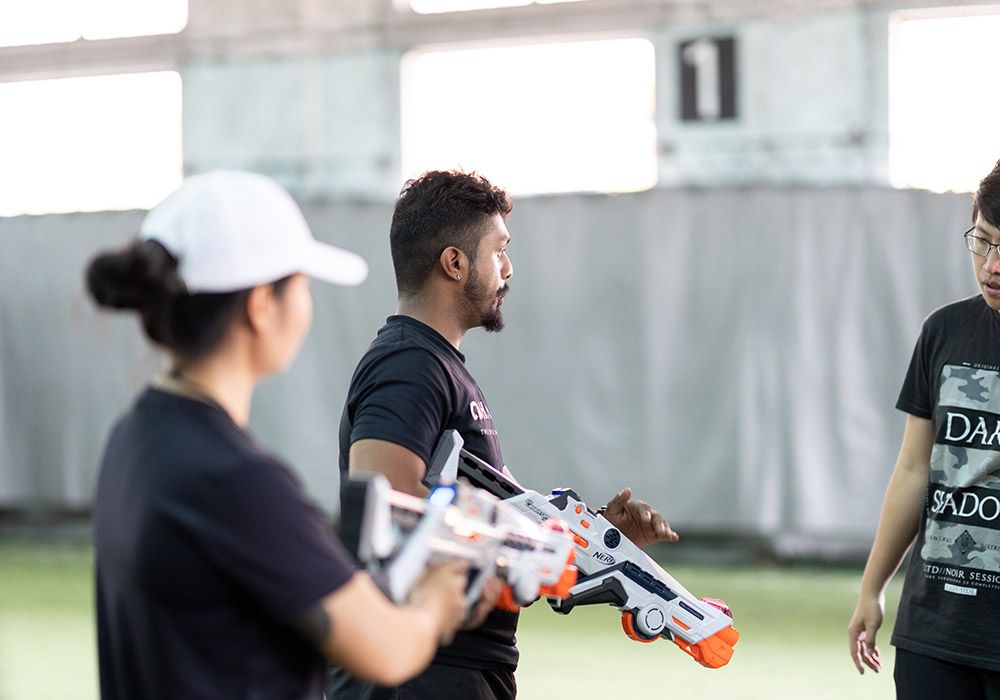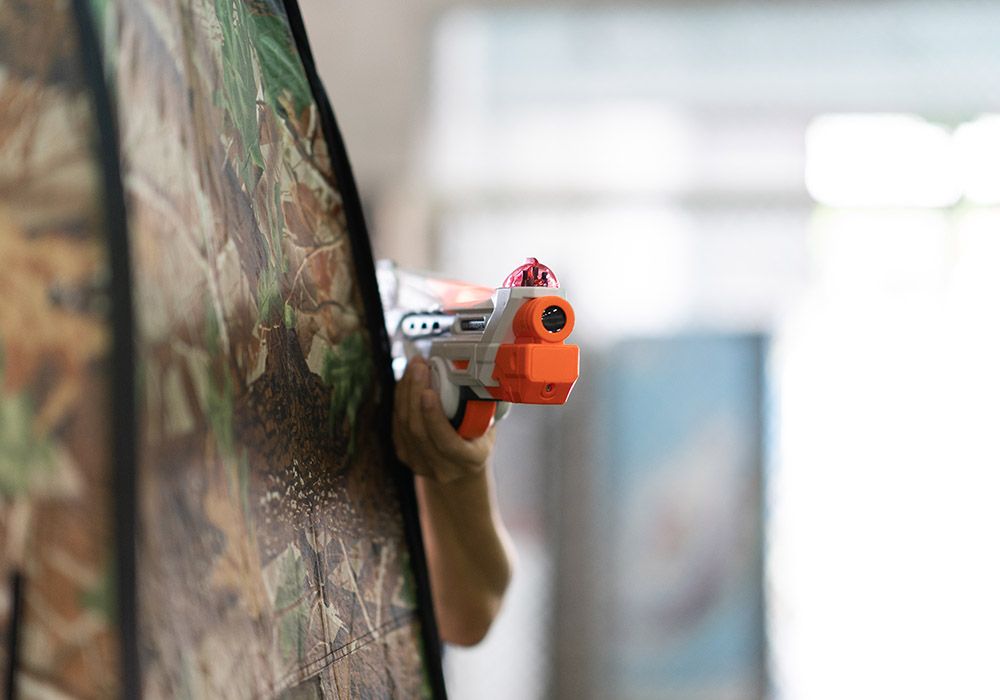 Laser Tag Programme
At Cohesion, we don't just plan a simple game of Laser Tag; we aspire to create a bonding exercise through it. Through our comprehensive and thrilling game modes, our facilitators seek to provide an unforgettable time for the participants.
A Cohesion Singapore Laser Tag session begins with an introduction to Laser Tag, followed by a safety briefing. Subsequently, participants will engage in their respective Laser tag games. There will be three game modes played: Team Deathmatch, Capture The Flag, and Attack the VIP. The rules and gameplay will also be briefed to the participants before the games begin.
So, don't be hesitant to try our cheap and exciting Laser Tag games! Contact us to know more about the availability of our Laser Tag sessions, prices, and to make any other enquiries.
Case Studies
We take great pride in the events that we organise and seek to make every experience an enjoyable and memorable time with colleagues. From Team Building exercises to Cohesions, the Cohesion team is here to help make you event stand out.
Laser Tag is a team activity which is friendly to both young and old and it is less physically intensive as compared to our other adventure games. We embrace diversity and collaboration by making people strategise and work together through our different game modes that are designed to be safe yet fun.
Visit our Review Page
Click the image below to go to view case studies.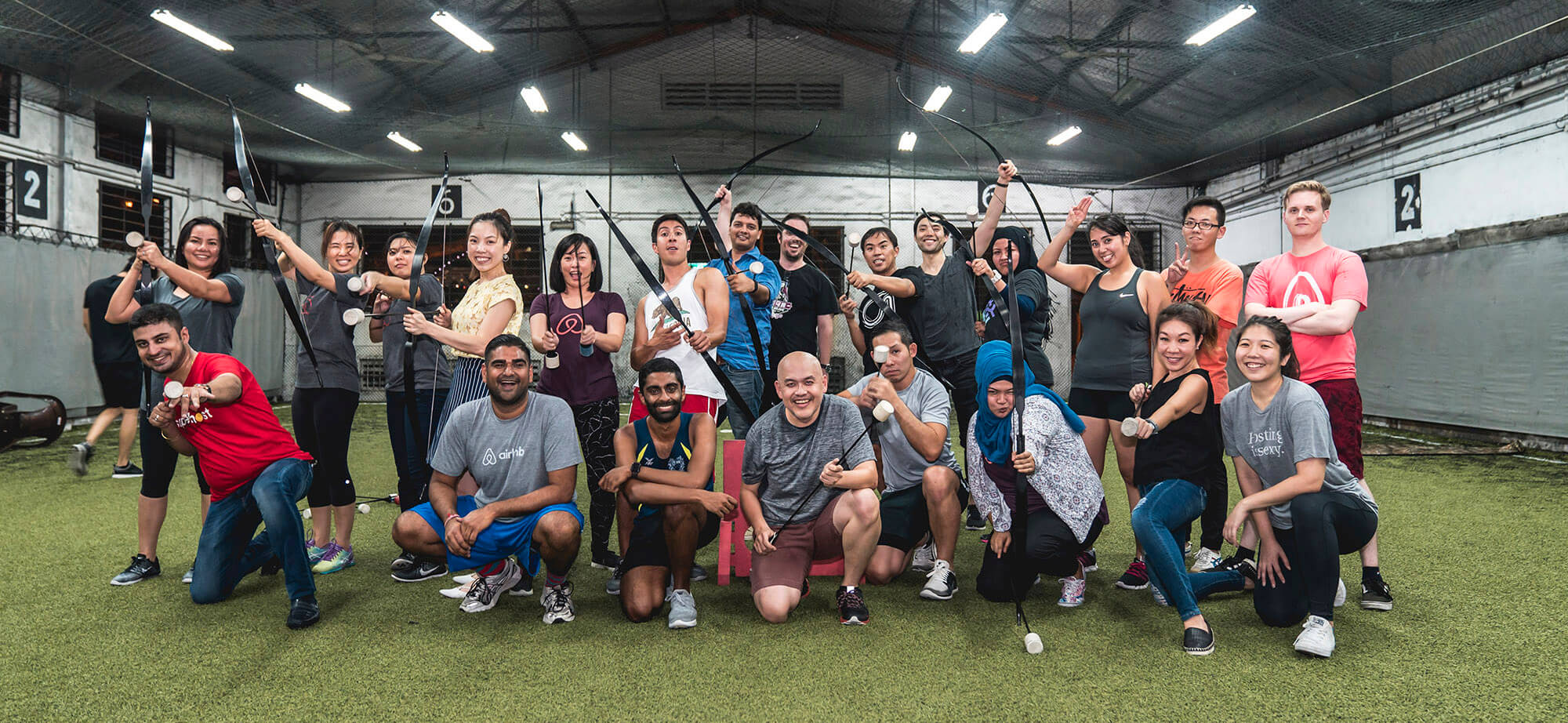 Pricing
Starts from $25/pax exclusive of location cost at The Cage at Kallang.
The Benefits of Our Laser Tag Game
Cohesion's Laser Tag game presents many benefits for our participants when they engage in the activity. These benefits can be essential for participants as they are able to develop and use these skills in the workplace and beyond.
Teamwork
As our laser tag game requires participants to be in groups, it's essential that they work together efficiently as a team to achieve their objectives. Players are then able to develop better teamwork to come out as victors in the friendly competition. This activity can also help to nurture teamwork skills that can contribute to the productivity in the professional environment.
Communication
Cohesion's Laser tag game is a fast-paced activity that requires quick decision-making skills along with clear and effective communication. Participants will be able to learn how to communicate with each other effectively to achieve victory in the competition.
Bonding
An essential aim in our Laser Tag games is to foster strong bonds among participants in the teams, helping them connect with each other better. As the players engage in friendly competition, they can develop more familiarity, understanding, and trust with each other, allowing them to bond as individuals and as a team.