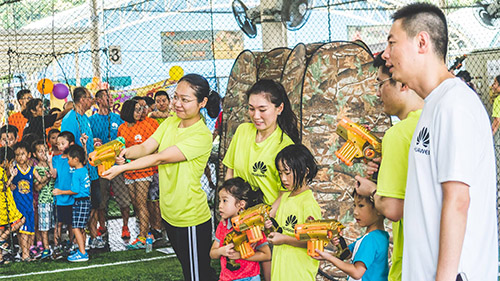 School's out? Get the kids out of the house and away from the computer with family-friendly games and activities! Apart from having a ton of fun, you might just be able to instil some levels of teamwork and communication skills.
Laser Tag
Barney Stinson has shown that laser tag can be enjoyed by people of all ages and physical levels. Since the kids have been spending the past month studying hard for their examinations, what they need now is a thrilling way to loosen up and have a great time with some friends. The best thing about the game is that their skill level doesn't matter. Whether you're a total noob or have tip-top accuracy in shooting, it's all about the experience – and you'll be getting in that cardio to boot.
Bubble Soccer
Bump or be bumped! Bubble soccer puts a unique spin on the world's most popular game where each player gets suited up in a giant, transparent bubble from the knees up, which prevents them from injury. Players compete in games of soccer, and players must work as a team to move the ball up to the goal and score. Not only will your kids clock that much needed exercise, they'd have lots of laughters trying to see their friends struggle to get back on their feet!
Archery Tag
Have your kids ever thought how it'd be like to be an archer like Robin Hood? Then this is the game for them! Archery Tag combines elements of paintball, dodgeball, and archery in a fast-paced game designed to get you moving and your adrenaline flowing! It utilizes archery with special foam tipped arrows that is 100% safe and can be played in both indoors or outdoors.
Splash Tag
June has got to be one of the hottest months in the year. So why not cool your kids down with a game of Splash Tag! Let the kids battle it out with high powered water guns to get each their opponents as wet as possible to eliminate them.
What are you waiting for? Check out more activities Cohesion offers to create the perfect fun-filled day for your kids! Book your kids' favourite activities for their June Holiday break now to avoid any disappointments.