Cohesion proudly presents one of the most entertaining, enjoyable, and exciting games to you! In our Bubble Games, players put on giant inflatable Bubble suits which allows them to bump, bounce, and roll around the playing arena gleefully and safely! With four game modes that involve teams working together and strategising the best game plan to win, players will have to communicate effectively and work well as a team.
As a sports event company in Singapore with affordable game prices, Cohesion aspires to provide our clients with a memorable and exhilarating time while they engage in our activities. Our Bubble Games combine the sporting aspect of football with the unadulterated fun of being a bubble, ensuring you'll break a sweat while having the time of your lives!
Charles-Etienne Houssa
08:53 10 Dec 19
Did Laser tag. Good company team building event with fun games. Professional team. Would recommend!
Good fun & great half day teambuilding activity.
Charu Kapoor
08:52 10 Dec 19
ayeaye aung
08:52 10 Dec 19
Very fun to play as a group, great workout!
sundar rajan
08:50 10 Dec 19
Thanks for the awesome experience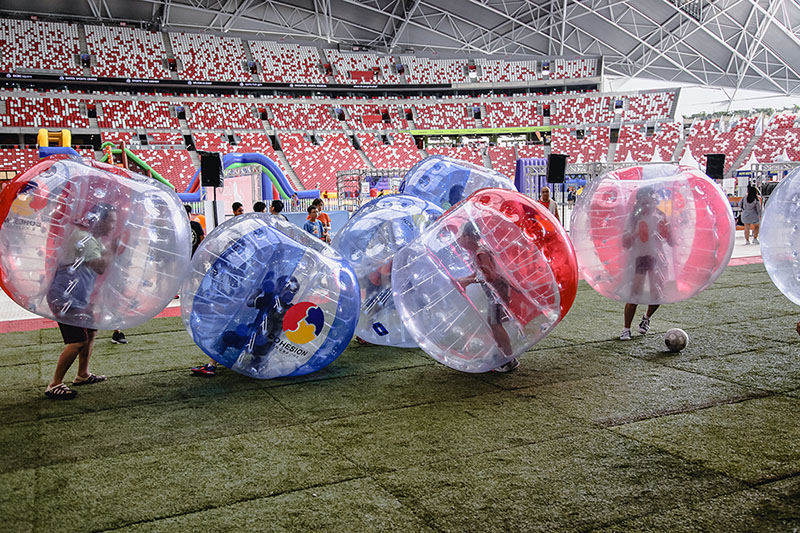 TEAMWORK
Learn the importance of teamwork as players work together to emerge as victors in friendly competition.
COMMUNICATION
Players will have to learn how to communicate effectively with each other in our fast-paced games.
BONDING
Take this opportunity to learn more about your teammates through our highly interactive series of games.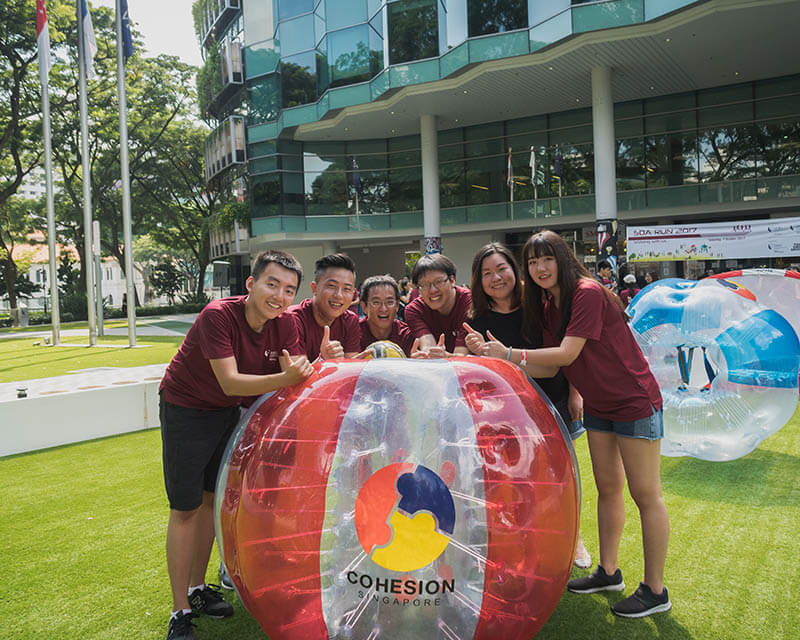 Game Modes
We have an exciting line up of game modes that will add variety to your event.
Bubble Soccer Programme
At Cohesion Singapore, we aim to host a game experience that is enjoyable and memorable. Our Bubble Football team building sessions with a warm-up game of Bubble Dodgeball before going into two strategy games that are then followed up by the actual Bubble Football game. Participants will be divided into groups and will have to coordinate a game plan that will help them win before Bubble Invasion and Bubble Captain starts.
Case Studies
We have been experience makers for 3 years. Through leveraging on our people, our experience as well as supplier networks, we are able to create affordable yet great events for people looking to have a great time.
We were one of the first companies to bring Bubble Soccer into Singapore under the brand Bubble Soccer Singapore. Over the years we have developed different game modes and variations that have been proven to be great fun and help with team building. Through our experience, we are able to help facilitate a safe and enjoyable session for you and your friends or colleagues. There is no better way to experience Bubble Soccer except through the Cohesion team.
Visit our Review Page
Learn More
Pricing
Starts from $300 for an hour inclusive of location cost at The Cage at Kallang.
Bubble Football Benefits
Bubble Football is one of the most challenging and intensive games, as players often need good communication, teamwork, and coordination skills to beat the opposing team. Participants in the game can train and develop a few skills that can be beneficial even in the outside world.
Teamwork
An essential part of the Bubble Soccer game is working as a unit to attack or defend while dribbling the football. To do this, they will need a good level of teamwork as they navigate around teammates and opponents to win. As it can be difficult to work as a team because each player is in a bubble, they will have to try various ways to work together, enabling them to develop their teamwork skills.
Communication
Cohesion's Bubble Games relies heavily on good communication between players to achieve victory. Players may find it challenging to give commands or communicate effectively with each other, so it's important for them to discuss their intentions well in a team meeting before the game starts. This process can help them work on their communication skills for the fast-paced game.
Bonding
Our fun-filled Bubble Games are designed to foster bonds among teammates as they work together to overcome their opponents and win. Through this process, they are able to learn and understand more about each other.