Archery Tag promises to deliver an exciting and action-packed experience with your friends and colleagues in Singapore. This thrilling activity combines the sport of Archery with Dodgeball, to create a highly competitive team building activity that's sure to be fun for everyone. In Archery Tag, players use bows to eliminate their opponents by shooting them with safe foam-tipped arrows.
Our Archery Tag game is a group activity, and it's ideal for groups in various events such as team building, gatherings, and also NS Cohesions. If you've ever wanted to feel like an archer nocking and shooting arrows after arrows, then this activity is perfect for you!
Charles-Etienne Houssa
08:53 10 Dec 19
Did Laser tag. Good company team building event with fun games. Professional team. Would recommend!
Good fun & great half day teambuilding activity.
Charu Kapoor
08:52 10 Dec 19
ayeaye aung
08:52 10 Dec 19
Very fun to play as a group, great workout!
sundar rajan
08:50 10 Dec 19
Thanks for the awesome experience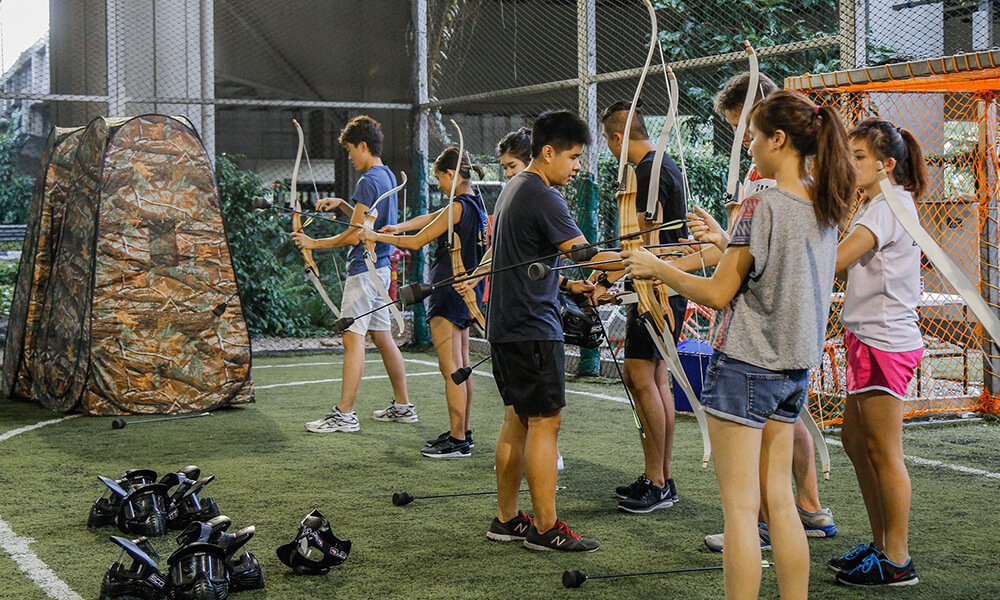 Teamwork
Learn the importance of teamwork as players work together to emerge as victors in friendly competition.
COMMUNICATION
Players will have to learn how to communicate effectively with each other in our fast-paced games.
BONDING
Take this opportunity to learn more about your teammates through our highly interactive series of games.
Archery Tag Game Modes
Death match
Archery Tag players will have to shoot their opponents with the foam-tipped arrows at their opponents, upon which successful contact will eliminate them from the game. If a player catches an arrow shot at them with their hands or knocks out a foam target, they will be able to bring an eliminated player back into the game. Winners of the game will be decided when a team eliminates all their opponents or knock out five targets placed in the centre of the play area.
Medic
Each team appoints one medic. A "live" medic allows "dead" teammates to revive. Eliminate the opponent medic to prevent opponents from reviving. Eliminate all 5 opponents to win the game.
VIP
Each team appoints one VIP. VIP will not be made know to the opponent team. Eliminate the opponent VIP to win the game.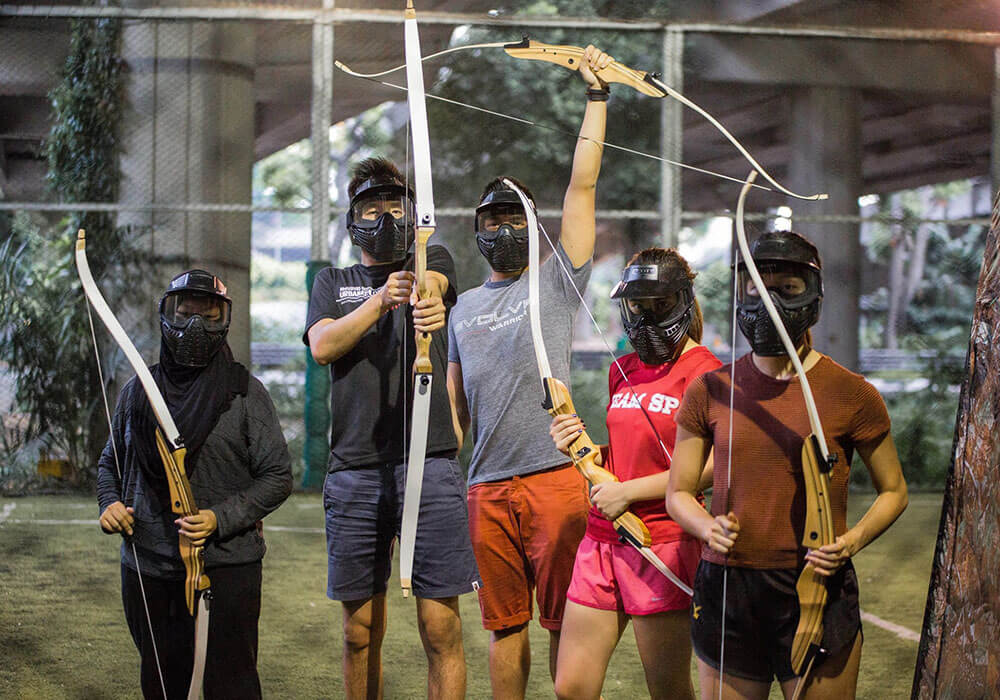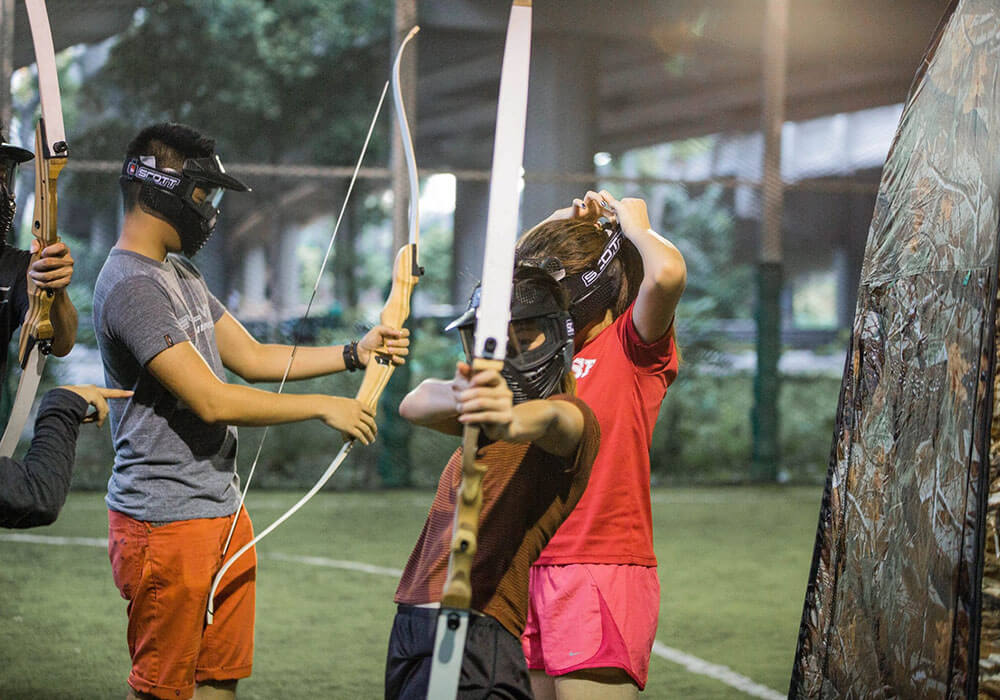 Archery Tag Programme
At Cohesion Singapore, we aspire to create unforgettable game sessions for our clients. Each session begins with an introductory briefing to Archery. Players will learn the basics, including holding a bow the right way, the correct bow-holding stances, postures while firing an arrow, and the correct arrow-nocking procedures.
Afterwards, players will apply what they have learned in an adrenaline-pumping and fast-paced Archery Tag game. Both the rules of Archery Tag and its gameplay procedures will also be briefed to the participants before the game on the same day.
Case Studies
Before you book any session with us, we encourage you to take a look at past events that we have done to see if we're a good fit for your team. We're a company that places our customer's experience as foremost in our events and we want to see how we can replicate the great Cohesion experience for you.
Archery Tag is a great sport that is face paced and builds up team spirit. But with any event, be it team building events or casual gatherings, the facilitators, logistics and planning all has to come together to ensure any event will become a smashing success.
AirBNB Teambuilding Event
Click the image below to go to view the Archery Tag team building case study.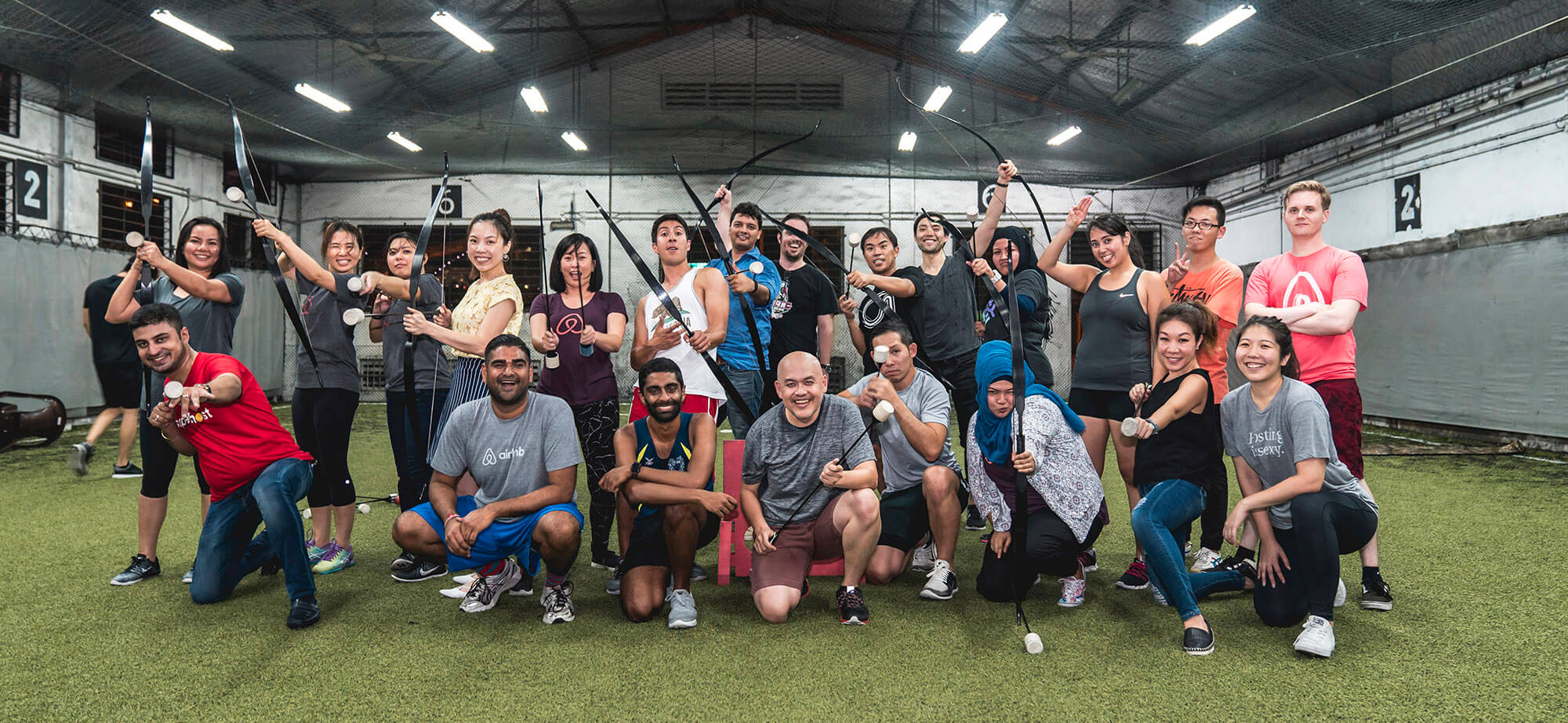 Pricing
Our pricing for Archery Tag in Singapore starts from $25/pax excluding location cost at The Cage at Kallang.
The Benefits of Our Archery Tag Game
Cohesion's Archery Tag game has many beneficial qualities for competitors when they participate in the activity. These qualities can be developed in the games and can also be advantageous for the workplace environment and beyond.
Teamwork
In our Archery Tag sessions, participants are required to be in groups. They will need to work together effectively as a team to target and eliminate the opponents and achieve victory in the game. Players will be able to develop the essential teamwork qualities needed to come out as winners in the friendly competition.
Communication
Communication is a vital skill to have in Cohesion's Archery tag game, and participants will need to communicate effectively in a fast-paced environment to ensure victory. Communication will be a key attribute that participants can work on to navigate the challenges and emerge as winners.
Bonding
At Cohesion, we aim to help our clients forge lasting bonds when they participate in our Archery Tag game. Participants can use this opportunity to learn more about their teammates by working with them and also through our highly interactive series of games.